Herowork
Durwest has proudly volunteered with Herowork annually for the last 3 years, and counting.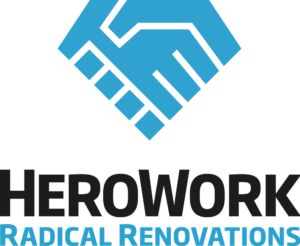 HeroWork was originally created to improve the state of buildings that house charities. But we quickly learned that a modern-day barn raising is about much more than a fast-paced renovation, or what we call Radical Renovations.
From our first project in Victoria, BC, we witnessed an increased sense of pride and engagement for clients, staff and volunteers inhabiting the new space. Participants in a Radical Renovation also experienced a renewed sense of belonging and community and became stronger leaders through the process.
For years, the charitable sector has faced increased demand and decreased resources. Many charities struggle to meet the needs of their constituents. And, as a result, their buildings often take a back seat. Soon, these halls, parks, homeless shelters, food banks and youth centres are diminished and in need of renewal.
Current methods of financing, funding, and maintaining charity buildings are insufficient and inadequate. Charities that do undertake the work often don't have the experience or expertise to plan and oversee the project wisely as it is outside of their traditional mandate.
Community is one of Durwest's core values, and we take pride in making improvements locally and supporting those who are vulnerable within our community. We encourage all our staff to join our Herowork Team!
VICA Construct Your Future
The Vancouver Island Construction Association's Construct Your Future program provides an opportunity for 18 to 24 year olds to learn about the many career paths in construction, as well as the roles, responsibilities, and safety requirements. Durwest has been a long standing member of VICA and volunteers regularly as instructors and/or mentors to Construct Your Future program participants.